HSRM Roller Shutter®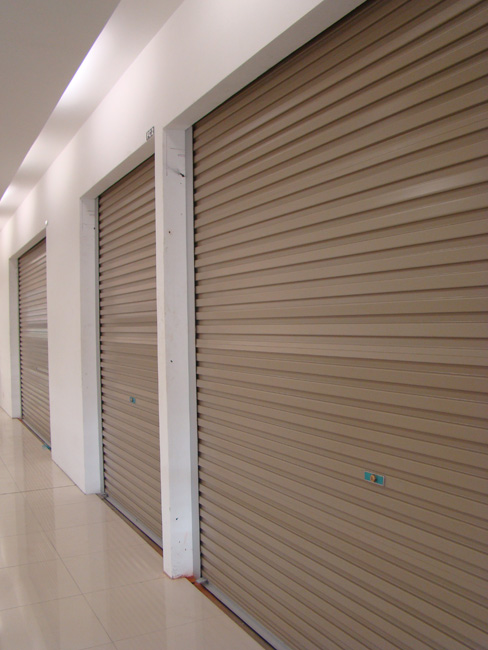 Auto/Manual Rolling Door and Window
Manufactured with advanced processing techniques, it replaces the traditional rolling door. It is the functional combination of decoration, prevention and protection. Advanced operation ways includes manual or remote controled with locking device.
Features
Fabricated from heat galvanized double layer steel plate or galvanized metal.
Suitable for door with large span.
The rails are made of aluminium that prevents rust.
Choice consists of manual, electrical or remote controlled motor.
Wireless remote and button on control box ensure door stays in exact position.
Special and yet modern design of features bring excellent vision effect, day lighting, ventilation and natural light into the building.
Multi-purpose and flexible to be used as decorative partitions, sidewalk separation with drive way and etc.
Provide anti-theft security to the properly owners.
All motors are equipped with interior overheat protection system.
Components
Auto/Manual Roller

With Tubular Motor

Roller Door Curtain
Spring S with Bolt
Nylon Drum Wheel with Rivet
Polyglide
Full Width PVC Weather Seal
Aluminium Rail
Fixture Kits
Support Bracket
PVC Weather Seal
Aluminium Bar Center with Flush & Pedal
Aluminium Door Guard with Wall Plug
Door Lock with Flat Bar
L or T Shape Aluminium Bottom Bar

Slat
Bottom Slat
Short Slat
PVC Side Clip
Expansion Screws
Guide Rail (SL 15)
PVC Ring
Steel Axle
Motor
Manual Crank (SL 151C)
Box23 Axle Insert
Nylon Guide Roller (SL 57)
Fixed Screw
Security Door Lock (SL 147)
Stop Mechanism
Tensional Spring (SL 154)
Bracket
Bearing (SL 156)
Nut
Screw Bar
Guide Rail Inlet (SL 57)
Aluminium Axle (SL 101A)
SL92-140M Tubular Motor

SLT 20 Tubular Motor

HS Gear Motor Fixed Externally

ET-16 & ET-22

Output Speed: 16rmp
Output Torque: 15N.M
Current: 1A
Power: 180W
Limit Revolution: 30
Time Rating: 4 min
Tube Diameter: 45mm
Complete Weight: 3.2kg
Lift Weight: 22.5kg
Length: 613mm
Noise: <50db (A)

Output Speed: 12rmp
Output Torque: 140N.M
Current: 3.2A
Power: 680W
Limit Revolution: 16
Time Rating: 4 min
Tube Diameter: 92mm
Complete Weight: 13.5kg
Lift Weight: 210kg
Length: 560mm
Noise: <58db (A)

Power: 150W
Rating: 0.05m/s
HS 300/250
Current: 1.67A
Tube Diameter: 100mm
Noise: <60db(A)

Power: 170-260V 50Hz
Rating: 0.15-0.20m/s
Remote Workable Distance:>50m
Exterior Diameter: 260mm