HSRM Corrugated® Roofing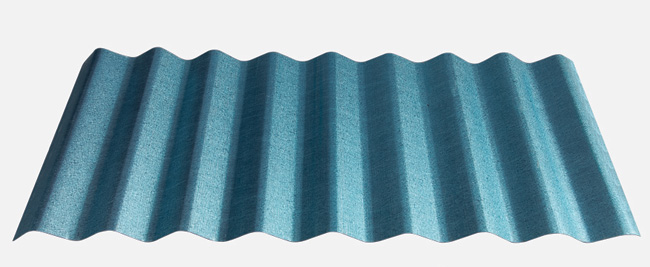 Roof & Wall Cladding
Corrugated roof is made from both light gauge high tensile steel, for long run cladding and heavier gauge mild steel sheet, which is suitable for curving.
Advantages
Corrugated roof is manufactured locally by continuously roll-forming pre-finished material giving a low cost and high quality product. Corrugated roof, being light and strong, is easy to handle and can be fixed quickly and easily. Fixing is by the simple pierce fixing method using a minimum of fasteners, thus keeping building costslow.
Allowable Support Spacing
Values given in the allowable support spacing tables below, are based on wind loading given in the Queensland Home Building Code. The wind Classifications (W33N ...W70C) used in the tables are taken from that publication. For other wind loading, or for more detailed assessment of support requirements, the allowable wind pressures table may be used.
Corrugated® Roofing Material Specification
Specification: Regular Curving Grade

G550/AZ150 ; G300/AZ150

Australian and New Zealand Standards:

AS/NZS 1397 ; AS/NZS 1445

Mass: Per unit area (kg/m²)
Per unit length (kg/m) Coverage (m²/tonne)

Regular : 4.27 ; Curving : 6.02

Thickness (Nominal): BMT(mm) ; TCT(mm)

Regular : 0.42 ; Curving : 0.60

Roof Pitch (min):

5º (1 in 12)

Coverage: Lengths

762mm - 4
Factory cut to length +0 - 15

Finish :

Zinc or Zinc Aluminium MULTICOTE G6
Corrugated® Roofing Installation Guide
Principle:
The sheets of corrugated roof overlap each other, and are fixed progressively along the building in the opposite direction to the prevailing weather. Each sheet consists of an "over" rib and an "under" rib and when put together form an anti-capollary darin which prevents water entry.
Preparation:
Ensure that the tops of the purlins or battens are all in the one plane by packing or easing between purlin and support. Lift packs of corrugated roof onto the roof frame so that all sheets are the right way up, with the over edge facing the end of the roof where laying will commence.
Stop Ending:
When the roof pitch is less than 25, turn the sheet ends up at the high end and down at the gutter or low end. A shifting spanner can be used to do this.
End Lapping:
When two or more sheets are required for full length cover, start laying at the gutter and work up to the ridge and then start the next run. End laps must be positioned over a support and the support spacing either side is to be that recommended for an end span.
Fasteners:
Fasteners should comply with AS 3566 - Class 3 to ensure that the corrosion resistance of the fasteners is similar to that of the cladding material. Nails are not recommended for fixing of roof and wall cladding.



Corrugated® Roofing Fasteners Details

FASTENERS DETAILS
Location
Roof & Wall (Crest Fixed)
Wall only (Valley Fixed)
Internal Supports




End Supports & Laps
| | | | | | |
| --- | --- | --- | --- | --- | --- |
| | | Non-cyclonic | Cyclonic | Non-cyclonic | Cyclonic |
| Fixing to Steel | 1.0 to 2.5 mm thick | No 12-14 x 35 Hex Head Tek | No 14-10 x 42 Hex Head Tek | No 10-16 x 16 Hex Head Tek | No 14-10 x 20 Hex Head Tek |
| | 2.5 to 5.0 mm thick | No 12-14 x 35 Hex Head Tek | No 14-20 x 45 Hex Head Tek | No 10-16 x 16 Hex Head Tek | No 14-20 x 22 Hex Head Tek |
| Fixing to Timber | Hardwood J1 - J3 | No 12-11 x 50 Hex Head Type 17 Screw | No 14-10 x 50 Hex Head Type 17 Screw | No 12-11 x 25 Hex Head Type 17 Screw | No 14-10 x 25 Hex Head Type 17 Screw |
| | Softwood J4 | No 12-11 x 65 Hex Head Type 17 Screw | No 14-10 x 65 Hex Head Type 17 Screw | No 12-11 x 40 Hex Head Type 17 Screw | No 14-10 x 50 Hex Head Type 17 Screw |

SPECIFICATION FOR CORRUGATED® ROOFING
Roofing Material
The roofing material shall be of the Corrugated manufactured from high tensile steel of grade G550/G300 base steel with conforms to AS1397:1993 with a minimum yield stress of 550 mPa/300 mPa. The base metal is to be of hot dip galvanized steel treated with zinc coating to ZM 275, i.e. 275g/m² total coated on both sides as determined by the prescribed triple spot tests.
The paint coating system shall be MULTICOTE G6 complying to AS/NZS 2728:1997 and warrant to perform as follow:
SHALL NOT DISCOLOUR BY DIRT STAINING FOR AT LEAST 5 YEARS
SHALL NOT PEEL OR FADE EXCESSIVELY FOR AT LEAST 15 YEARS
SHALL NOT PERFORATE BY CORROSION FOR AT LEAST 25 YEARS
Proof of purchase from the manufacturers of the specified specialised building products should be submitted before installation. Products installed without validation and approval by the client shall not be eligible for work progress claims.
The thickess shall be 0.48mm and 0.66mm, or unless otherwise specified with and effective cover of 762mm ad a rib height of 16mm.
Anti-capillary drain shall be provided on the upper lapping side rib at two adjacent sheets of roofing in order to prevent ant seepage of water.
The colour of the roofing shall be submitted for approval
The contractor shall provide the above warranty from the manufacturer of the roofing for the approval of the final work progress claim.
Accessories
All accessories such as ridge capping, apron mould, barge mould, valley gutter and flashing shall be manufactured from the same original material and color as the roofing material and supplied by the same roofing manufacturer.
Installation
All roofing sheets and accessories are to be fasterned to the battens or purlins with approved fasteners and in accordance with the manufacturer's instructions. Batten and purlin sizes shall be as indicated in the drawings and spacing of the battens and purlins shall be as described in the product catalogue. The minimum fall of the roofing sheet not be less than 5º.
Where sheets require cutting, it is recommended to use shears or hacksaw if corrosion is to be avoided. Under no circumstances should abrasive discs be used. It is essential that immediately after fixing any roof, the roof must be thoroughly cleaned down with a soft bristle brush to remove all swarfs, unused fasteners and metal trimmings to eliminate rust staining of the roof.
Handling and Storage
Care should be taken to avoid dragging sheets over each other or any rough surface to avoid scratching and scouring to the coated surface.
During transit and storage at site, sheets should be kept dry at all times when closely stacked. Sheets are to be stored clear off the ground and under cover. Should moisture be trapped between the surfaces of sheets, they must be dried and fillet stacked to allow air circulation. Failure to observe these procedures will result in poor performance due to staining or white rust to the galvanized or colour sheets and reduce the effective service life of the roofing.